Saving a portion of your earnings is a fundamental component to managing your money. It may seem like a daunting task, but it doesn't have to be. The process can be simplified by using direct deposit and automatic transfers. With direct deposit, your funds are deposited into your checking account automatically on pay day. Using automatic transfers from your checking account into a savings account or club account each pay day establishes a routine savings plan. We'll help you through the process from start to finish - just give us a call!
Our savings account is the first step to becoming a member of the credit union. Anyone living or working in Boone, DeKalb, Ogle, Stephenson or Winnebago Counties is eligible to become a member. With a deposit of just twenty-five dollars, you can begin enjoying the benefits of belonging to Generations Credit Union.
Our savings accounts are intended for the purpose of saving money; therefore, we allow only six withdrawals or transfers from this account per calendar month.
Traditional Checking Account
MasterCard debit card
Courtesy pay - overdraft protection up to $500
Dividends paid monthly - no minimum balance required
Free online bill payment
Full service online branch access
No monthly fees for e-statement accounts
No per check fees - unlimited deposits and withdrawals
Non-Traditional Checking Account
No Checks
Unlimited deposits and withdrawals
Prepaid/Reloadable Visa Debit Card
No minimum balance requirement
Full service online branch
Monthly fee automatically deducted from the account
Christmas Club Accounts
Our Christmas Club provides an opportunity to put money away for those holiday expenses. This club account matures in mid-October every year, at which time the funds are either transferred to your share account or paid out in the form of a check. A penalty may be applied for early withdrawal.
Fortune Fund Accounts
Our Fortune Fund account offers you an opportunity to save for an intended purpose such as property taxes, annual or semi-annual insurance premiums, or any other purpose that you would like. You are allowed only four withdrawals per calendar year from this account.
Vacation Club Accounts
Our Vacation Club account offers you the opportunity to save for your vacation at a higher rate of return than a standard savings account. You are allowed only four withdrawals per calendar year from this account.
Our Certificates of Deposit offer members the security they require with the return they desire!
The benefits include:
Solid yields
Variety of terms
Automatic renewal
A penalty may be applied for early withdrawal. This penalty will be waived for members 60 years and older who make withdrawals due to a documented medical emergency.
We offer the following Certificates of Deposit:
90 Day
1 Year
2 Year
5 Year
From college to retirement.
The more you know today, the easier it will be to:
Make plans
Set goals
Invest in tomorrow
Enjoy your journey!
Just starting out? When planning for a comfortable retirement, you may choose to begin saving with an Individual Retirement Account (IRA). IRA contributions may be tax deductible and the earnings are tax deferred.
Need peace of mind? At Generations Credit Union, your IRA account is federally insured up to $250,000. This account is ideal for protecting your retirement funds from market fluctuations and preserving your principal. Talk to our IRA specialist about a direct transfer from your qualified retirement plan to an IRA at Generations Credit Union.
To open a Traditional IRA,
Complete enrollment forms
Deposit $100 into the account
You may also want to consider moving an existing IRA you have at another financial institution to Generations Credit Union to take advantage of our competitive terms and rates.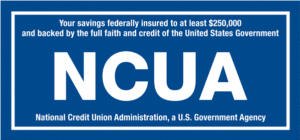 Your funds are federally insured up to $250,000 through the National Credit Union Share Insurance Fund (NCUSIF) which is regulated by the National Credit Union Administration (NCUA).  With the backing of the full faith and credit of the U.S. government, NCUA operates and manages the National Credit Union Share Insurance Fund, insuring the deposits of more than 111 million account holders in all federal credit unions and the overwhelming majority of state-chartered credit unions.
Open a savings account and begin to enjoy the benefits of belonging to a credit union. Once a member, you are welcome to apply for a checking account, a VISA Credit Card, or any of our full range of loans.
Members with traditional checking accounts may also apply for a MasterCard debit card. The MasterCard debit card can be used to purchase goods and services as if writing a check, and the those purchases are deducted automatically from your checking account. The MasterCard debit card can also be used like an ATM card at any participating network ATM machine.
Members with non-traditional checking accounts may apply for a cuMoney prepaid, reloadable debit card. The cuMoney Card allows you to spend only the amount on the card, so overdrafts and their associated fees are avoided entirely.